SAP
SAP S/4 HANA Email Validator Integration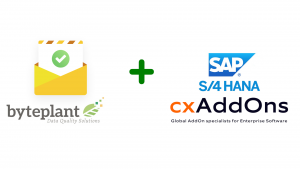 You can now use the Nagarro Data Booster AddOn to directly validate your email addresses natively on your SAP S/4 HANA Platform. The Nagarro Data Booster AddOn can be implemented with no coding and immediately improves the data quality of your email addresses on SAP S/4 HANA with the click of a button.
How the SAP S/4 HANA + Email Validator Integration Works
1. Import the Nagarro Data Booster AddOn into your SAP S/4HANA system.
2. Configure the RFC connection to the Nagarro ES service (installation of a cloud connector might be necessary).
3. Email addresses of business partners, like contact persons or accounts, are now validated while maintaining the address.
Apps Involved
SAP S/4 HANA
Email Validator